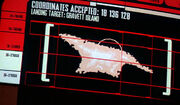 Gravett Island, located at coordinates 18 136 128, was an isolated and uninhabited island located in Earth's South Pacific.
After having traveled back in time from 2373 to 2063, the USS Enterprise-E was nearly overrun by the Borg. Captain Jean-Luc Picard initiated the ship's auto-destruct sequence and evacuated his crew to Gravett Island, and ordered Commander Riker's group, which was located in Bozeman, Montana at the time, to find a "quiet corner of North America and stay out of history's way."
The remaining Enterprise crew landed on Gravett Island in order to minimize the possibility of polluting the timeline, and thereby violating the Temporal Prime Directive. (Star Trek: First Contact)
External link
Edit
Ad blocker interference detected!
Wikia is a free-to-use site that makes money from advertising. We have a modified experience for viewers using ad blockers

Wikia is not accessible if you've made further modifications. Remove the custom ad blocker rule(s) and the page will load as expected.