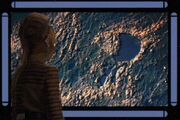 The Godo Mountain Range was a mountain chain located on Talax, near the Axiana Lakes. They were one of the more widely known Talaxian geographical features.
In 2378, Seven of Nine brought up a schematic of Talax in Astrometrics for visiting Talaxians Brax and Dexa. Although Brax had never seen them, Dexa and Neelix remembered them fondly. (VOY: "Homestead")
Ad blocker interference detected!
Wikia is a free-to-use site that makes money from advertising. We have a modified experience for viewers using ad blockers

Wikia is not accessible if you've made further modifications. Remove the custom ad blocker rule(s) and the page will load as expected.