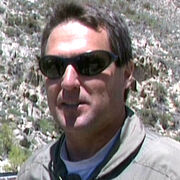 Glenn J. Smith was, along with David Gibbs, the Aerial Coordinator for Star Trek: Insurrection. He was responsible for the transportation of the cast, crew, and the equipment up on the hills near Lake Sherwood. Smith was also one of the helicopter pilots, himself, and was interviewed for a bonus feature on the Star Trek: Insurrection (Special Edition) DVD.
Smith worked as a pilot on John Woo's action thriller Broken Arrow (1996, starring Christian Slater) and Tim Burton's science fiction comedy Mars Attacks! (1996). For his work as aerial coordinator and stunt pilot on the comedy Rat Race (2001) received Smith a Taurus World Stunt Award nomination for best aerial work in 2002.
External link
Edit
Ad blocker interference detected!
Wikia is a free-to-use site that makes money from advertising. We have a modified experience for viewers using ad blockers

Wikia is not accessible if you've made further modifications. Remove the custom ad blocker rule(s) and the page will load as expected.