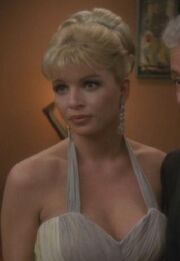 Ginger was a holographic character in the Bashir 62 holoprogram. She had once played together with Liberace.
In "1962", Vic Fontaine had a table reserved at the Dunes Hotel for himself, Odo, Ginger, and Melissa, where they were going to see Shecky Greene perform. Fontaine also took Ginger to see Peter Lawford and Jimmy Durante perform at the Sands Hotel. (DS9: "His Way")
When Ginger first met Odo, she compared him to Victor Borge. (DS9: "His Way", "What You Leave Behind")
Ad blocker interference detected!
Wikia is a free-to-use site that makes money from advertising. We have a modified experience for viewers using ad blockers

Wikia is not accessible if you've made further modifications. Remove the custom ad blocker rule(s) and the page will load as expected.