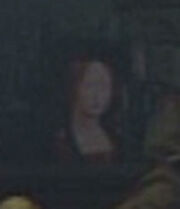 Ginevra de' Benci was a painting done by the Human Leonardo da Vinci in the late 15th century in Europe on Earth. The painting depicted a female aristocrat from Florence, Italy.
The painting was also found among the relics in Kathryn Janeway's da Vinci workshop holodeck program. (VOY: "Scientific Method", "Concerning Flight")
This painting was sold off on the It's A Wrap! sale and auction on eBay.
[1]
The reproduction was applied to a wooden backing with a lacquer to give the painting an oil paint look.
External link
Edit
Ad blocker interference detected!
Wikia is a free-to-use site that makes money from advertising. We have a modified experience for viewers using ad blockers

Wikia is not accessible if you've made further modifications. Remove the custom ad blocker rule(s) and the page will load as expected.