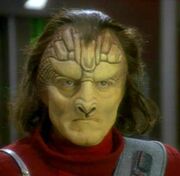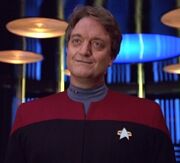 Gerrit Graham (born 27 November 1949; age 66) is the actor who first portrayed a Hunter in the Star Trek: Deep Space Nine episode "Captive Pursuit" and later the Q Quinn in the Star Trek: Voyager episode "Death Wish".
Outside of Star Trek, he appeared on Babylon 5, with various Trek guest stars, such as Andreas Katsulas, Patricia Tallman and David Warner, and Child's Play 2, with the voice of Brad Dourif as Chucky.
He also portrayed the glam-rock star "Beef" in Brian De Palma's cult classic Phantom of the Paradise (a rock and roll remake of Phantom of the Opera which also starred Paul Williams).
Graham contributed additional story material for the 1988 Disney animated film Oliver & Company (for which Frank Welker and Judi Durand provided voices). He provided additional dialogue and voices for the 1989 Disney classic The Little Mermaid (featuring the voices of Star Trek alums Rene Auberjonois, Kenneth Mars, Hamilton Camp and the aforementioned Frank Welker). He also co-starred with Auberjonois in the 1987 film Walker.
External links