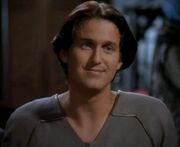 Geoffrey Blake (born 20 August 1962; age 54) played Arjin in the Star Trek: Deep Space Nine episode "Playing God".
Blake had worked with Terry Farrell before. Both were main cast members of the short-lived 1980s television series Paper Dolls. In that series, the two characters were dating. The series also featured Richard Beymer and Jonathan Frakes, and three episodes were directed by Ralph Senensky.
Blake has also appeared in many popular films such as The Last Starfighter (with fellow DS9 guest stars Marc Alaimo, Kay E. Kuter, and Barbara Bosson), Young Guns (with Lisa Banes and Terry O'Quinn), Forrest Gump, Apollo 13 (with Max Grodénchik, Clint Howard, Joseph Culp, Andy Milder, Brett Cullen, Steven Rankin, Googy Gress, and Brian Markinson), Contact, Frost/Nixon, and Cast Away (with Michael Forest).
External links
Edit
Ad blocker interference detected!
Wikia is a free-to-use site that makes money from advertising. We have a modified experience for viewers using ad blockers

Wikia is not accessible if you've made further modifications. Remove the custom ad blocker rule(s) and the page will load as expected.