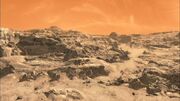 You may also be looking for the article on the Iconian gateways, the DC TNG comic of the same name, or the novel series Star Trek: Gateways.
Gateway was a site on the planet Vulcan which led into the Forge. It was believed to be the area where Surak began his pilgrimage into the Forge.
Jonathan Archer and T'Pol traversed Gateway in 2154, when beginning their journey into the Forge in search of the Syrrannites. (ENT: "The Forge")
In the script of "The Forge", Gateway was described as "an epic expanse of red sand".

T'Pol specifically pointed out the possibility that Surak's entrance in the forge might not have occurred as believed because of his

original writings

being lost.
Ad blocker interference detected!
Wikia is a free-to-use site that makes money from advertising. We have a modified experience for viewers using ad blockers

Wikia is not accessible if you've made further modifications. Remove the custom ad blocker rule(s) and the page will load as expected.