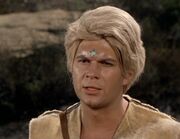 Gary Pillar, also occasionally known under his birth name of Gary Carpenter, was an actor from the early 1960s through the early 1980s.
He got his start on the soap opera Guiding Light before moving on to Another World (as the same character). He also appeared as a guest star in S.W.A.T., and as a regular in both Bright Promise and General Hospital.
He played the role of Yutan in TOS: "A Private Little War".
External link
Edit
Ad blocker interference detected!
Wikia is a free-to-use site that makes money from advertising. We have a modified experience for viewers using ad blockers

Wikia is not accessible if you've made further modifications. Remove the custom ad blocker rule(s) and the page will load as expected.