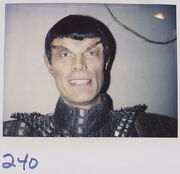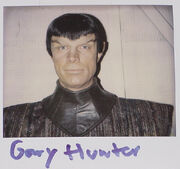 Gary Hunter is an actor who appeared in different roles in episodes of Star Trek: The Next Generation. As a background actor he received no credit for his appearances.
His Borg costume from "Descent" and "Descent, Part II" was sold off on the It's A Wrap! sale and auction on eBay and was also worn by Michael Reilly Burke, stuntman Tom Morga, and John de Lancie in the video game Star Trek: Borg. [1] His Romulan costume from "Birthright, Part I" and "Birthright, Part II" was also sold off on eBay. [2]
Hunter filmed his scenes for the episode "The Mind's Eye" on Friday 22 March 1991 and Thursday 28 March 1991 on Paramount Stage 8 and 16.
Star Trek appearances