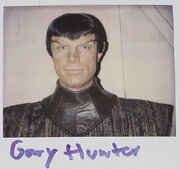 Gary Hunter is an actor who appeared in different roles in episodes of Star Trek: The Next Generation. As a background actor he received no credit for his appearances.
His Borg costume from "Descent" and "Descent, Part II" was sold off on the It's A Wrap! sale and auction on eBay and was also worn by Michael Reilly Burke, stuntman Tom Morga, and John de Lancie in the video game Star Trek: Borg. [1] His Romulan costume from "Birthright, Part I" and "Birthright, Part II" was also sold off on eBay. [2]
Hunter filmed his scenes for the episode "The Mind's Eye" on Friday 22 March 1991 and Thursday 28 March 1991 on Paramount Stage 8 and 16.
In 1992, Hunter appeared as the mayor's assistant in the comic adaptation Batman Returns, where he worked with Trek alumni Vincent Schiavelli, Anna Katarina, Branscombe Richmond, Diane Salinger, Sean Whalen, Henry Kingi, Sr., Biff Yeager, Susan Rossitto, Felix Silla, Anthony DeLongis, Lena Banks, and Brian Demonbreun.
Star Trek appearances Edit
Recurring appearances
Edit
Ad blocker interference detected!
Wikia is a free-to-use site that makes money from advertising. We have a modified experience for viewers using ad blockers

Wikia is not accessible if you've made further modifications. Remove the custom ad blocker rule(s) and the page will load as expected.