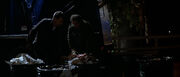 A garbage man was someone who collected garbage for the purpose of sorting and disposal.
In 1986, two garbage men were loading a garbage truck in Golden Gate Park and discussing the relationship problems of one of them. They were interrupted in their task by a sudden gust of wind caused by the landing of the cloaked HMS Bounty. Stunned by the opening ramp and the appearance of a man at the entrance, one told the other to shut up about it. (Star Trek IV: The Voyage Home)
External link
Edit
Ad blocker interference detected!
Wikia is a free-to-use site that makes money from advertising. We have a modified experience for viewers using ad blockers

Wikia is not accessible if you've made further modifications. Remove the custom ad blocker rule(s) and the page will load as expected.