Ad blocker interference detected!
Wikia is a free-to-use site that makes money from advertising. We have a modified experience for viewers using ad blockers

Wikia is not accessible if you've made further modifications. Remove the custom ad blocker rule(s) and the page will load as expected.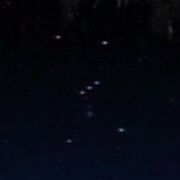 Gamma Orionis (or Bellatrix) is a star in the constellation Orion. When viewed from Earth, it is the third brightest star in the constellation. (TNG: "Family")
Upon initially boarding USS Voyager, in 2371, Captain Kathryn Janeway was quizzed by Admiral Patterson on this subject, referring to the star as "Gamma Orionis, or Bellatrix if you prefer the original Arabic name." (VOY: "Relativity")
Janeway refers to Bellatrix as the original Arabic name for this star, however, the name "Bellatrix" is actually Latin in origin and means "Amazon". It is also known as the Amazon Star and the "warrioress". The real Arabic name for this star was al Najid, "the conqueror.".
External links
Edit