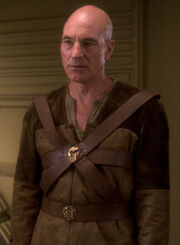 Galen
was an alias taken on by
Captain
Jean-Luc Picard
in
2370
while investigating the ransacking of an archaeological site on
Dessica II
.
Picard adopted this alias when his investigation drew the attention of the thieves, led by Arctus Baran. As Galen, Picard claimed that he was a smuggler who had had dealings with Starfleet. (TNG: "Gambit, Part I", "Gambit, Part II")
Picard may have chosen the name "Galen" in honor of his mentor, Professor Richard Galen who appeared in

TNG

: "

The Chase

". Galen was also a respected Greek physician from the A.D. 100s on Earth.