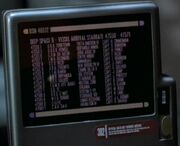 The GCS Recio was a 24th century starship registered for Federation travel.
Under the command of Captain E. Robinson, this vessel visited Annandale in 2370. From there, it was due to arrive at Deep Space 9 on stardate 47552.8. (DS9: "Whispers")
The
Recio
was never mentioned or shown, it was simply listed in an okudagram graphic of an arrival roster on a viewscreen. No reason for the ship's odd name-prefix nomenclature has been noted, but the graphic was also populated by some other in-jokes.