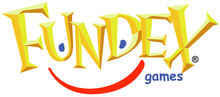 Fundex Games Limited was an American game company based in Indianapolis, Indiana and was founded in 1986. It was widely known for its production of the Phase 10 card game.
Star Trek releases Edit
In 2009, Fundex obtained a license to produce new Star Trek-based games and puzzles. Three games produced under that license were released concurrently with the release of 2009's Star Trek, though the games were based on The Original Series rather than the film.
Two of these games were also made under license from other companies, while the third was based on their own game format. Released games included:
The company announced plans to release more Trek-related product later in 2009, including jigsaw puzzles and a Star Trek-themed edition of the Phase 10 card game. However, none of these products were produced and the company declared bankruptcy in 2012. [1]
External links
Edit