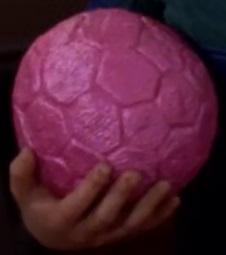 A fullerene is a molecule in the configuration of a hollow, multi-faceted sphere, composed entirely of carbon atoms.
In 2370, Alexander Rozhenko and Eric Burton made models of fullerenes in their chemistry class and filled them with water, essentially making water balloons. Eric accidentally hit Lieutenant Worf with one of the models while playing with Alexander. (TNG: "Firstborn")
External link
Edit
Ad blocker interference detected!
Wikia is a free-to-use site that makes money from advertising. We have a modified experience for viewers using ad blockers

Wikia is not accessible if you've made further modifications. Remove the custom ad blocker rule(s) and the page will load as expected.