Ad blocker interference detected!
Wikia is a free-to-use site that makes money from advertising. We have a modified experience for viewers using ad blockers

Wikia is not accessible if you've made further modifications. Remove the custom ad blocker rule(s) and the page will load as expected.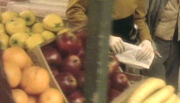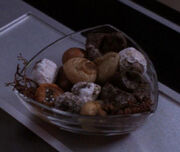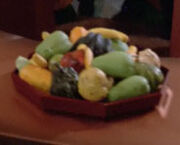 A fruit was the ripened ovary of a flowering plant. Many foods that were treated as vegetables in cooking were actually botanically fruits.
In 2364, Groppler Zorn offered Commander William T. Riker something from a bowl of Earth fruits. Riker asked for an apple, but there was none available. The Farpoint Station entity then created a second bowl filled with red apples. (TNG: "Encounter at Farpoint")
One of the Bandi merchants at Farpoint Station sold fruits. (TNG: "Encounter at Farpoint")
The Aldeans had a variety of fruits. They presented them in bowls and on plates. (TNG: "When The Bough Breaks")
In 2369 a bowl of fruits rotted because of the collision with a temporal fragment. (TNG: "Timescape")
Types of fruit
Edit
External links
Edit