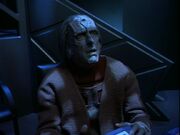 Fritz Weaver (born 19 January 1926; age 90) played Kovat in the Star Trek: Deep Space Nine episode "Tribunal".
Weaver hails from Pittsburgh, Pennsylvania, and has appeared in motion pictures such as Marathon Man, Fail-Safe, The Day of the Dolphin, The Big Fix (with F. Murray Abraham) and The Thomas Crown Affair, in which he played John Reynolds. Weaver starred in the 1982 George A. Romero/Stephen King movie Creepshow (with Adrienne Barbeau, Don Keefer, Robert Harper, and Jon Lormer).
Science fiction fans may also remember him as the Chancellor in "The Obsolete Man" and William Sturka in "Third From the Sun" of the original Twilight Zone series. He also appeared in the mini-series The Martian Chronicles, based on the book by Ray Bradbury, alongside Bernie Casey. He is also internationally known for his portrayal of Doctor Josef Weiss in the 1978 mini-series Holocaust, a series which also starred David Warner. Weaver has also guest-starred in Frasier (with Kelsey Grammer and Natalija Nogulich), The X-Files (with John Neville), Mission: Impossible, The Streets of San Francisco, and Murder, She Wrote, among many more.
External links
Edit