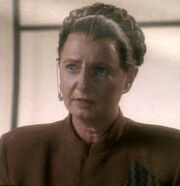 Freyda Thomas is the actress who played Alenis Grem in the Star Trek: Deep Space Nine episode "Second Skin".
Thomas had previously appeared in an episode of Quantum Leap (starring future Star Trek: Enterprise actors Scott Bakula and Dean Stockwell) and also appeared in a 1990 episode of Murder, She Wrote (along with Barbara Babcock, Dennis Christopher, William Lucking, Robert Walker, and William Windom). Her other credits include Kate & Allie, Newhart, Murphy Brown, and the 1991 television movie The Haunted (with William O'Connell and George D. Wallace).
External link
Edit
Ad blocker interference detected!
Wikia is a free-to-use site that makes money from advertising. We have a modified experience for viewers using ad blockers

Wikia is not accessible if you've made further modifications. Remove the custom ad blocker rule(s) and the page will load as expected.