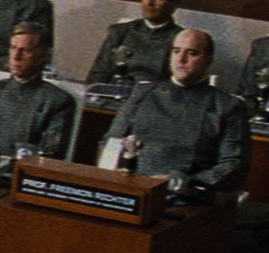 Freemon Richter was a Starfleet professor in an alternate reality.
In 2258, Richter was one of the high-ranking Starfleet officers and professors who judged over James T. Kirk's Starfleet Academy hearing for cheating during the Kobayashi Maru scenario. He was sitting in the right corner. (Star Trek)
Richter was played by featured actor Nicholas Guy Smith who received no credit for this appearance.
Ad blocker interference detected!
Wikia is a free-to-use site that makes money from advertising. We have a modified experience for viewers using ad blockers

Wikia is not accessible if you've made further modifications. Remove the custom ad blocker rule(s) and the page will load as expected.