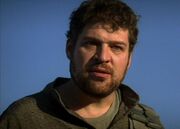 In a deleted scene from 2009's Star Trek, Frank was the uncle of George Samuel Kirk and James T. Kirk. He was played by Brad William Henke.
In the deleted scene, Frank lives in a barn-style house in Iowa and has assumed care of the Kirk brothers while their mother, Winona Kirk, is away. Unbeknownst to Winona, however, Frank mistreated her sons. He was verbally abusive to George and he would put down James, referring to him as "no one." He also ordered James around, telling him to wash the late George Kirk's classic Chevrolet Corvette, which Frank treated as his own.
At the start of the scene, young George runs away from Frank's home, having had enough of his abuse. Frank encourages George to leave and then orders "Jimmy" to wash the Corvette. As he does so, however, James finds the keys to the car and decides to drive off. This leads to the scene in the film in which young Jim is driving through Iowa roads, ultimately plunging the car into a quarry.
Uncle Frank's scene was deleted from the final cut of the film for pacing issues. The character's remaining dialogue, heard via the car's Nokia phone system, was re-dubbed by Greg Grunberg and the character was listed as Kirk's step-father in the credits. According to Henke, Frank was alcoholic as well as abusive. [1] Star Trek: Enterprise regular Dominic Keating had auditioned for the part of Uncle Frank, though the role ultimately went to Henke. [2]
In the phone call, Frank threatens James, saying that if he does not bring the car back unharmed he will "whoop your ass", a possible allusion to physical abuse. It is unclear what happened to James after the car's destruction.
The novelization of the film essentially merges the characters, making "Frank" the boys' stepfather, while the IDW Star Trek comic series issue "Operation: Annihilate, Part 1" establishes him to be Winona's older brother.
External link
Edit