Forums → Ten Forward → Wikia fails message box (reply • watch)
This forum discussion has been archived
This forum discussion has been archived and should not be added to. Please visit the Forums to begin a new topic in the relevant location.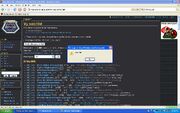 Interesting new bug, or possible hack (probably bug). On any page I go to on Memory Alpha, I receive a dialog box informing me that "memory alpha.org" says that "Wikia fails!"
While I know that some here share that sentiment, and some are too vocal about given our free unlimited hosting and general good performance, etc., I think this probably doesn't belong for standard function of the site ;) --OuroborosCobra talk 04:04, 27 May 2008 (UTC)
Three Four things: 1) I suspect that there are some upgrades or something going on, because the [edit] tabs and a few other things appear to have changed in layout. 2) 4116 pages watched?! 3) including my user/talk page, really? 4) it wasn't a problem for my last edit to this page. --Alan 04:07, 27 May 2008 (UTC)
1) Nifty
2) By default any page I ever edit is on my watch list.
3) I've been to your talk page a few times and left messages, so that explains that when combined with #2. It isn't anything personal :P
4) It seems to have gone away now, so feel free to delete this forum page and the image, as we don't need a 10 minute now solved issue cluttering things. --OuroborosCobra talk 04:22, 27 May 2008 (UTC)
Ad blocker interference detected!
Wikia is a free-to-use site that makes money from advertising. We have a modified experience for viewers using ad blockers

Wikia is not accessible if you've made further modifications. Remove the custom ad blocker rule(s) and the page will load as expected.