Forums → Ten Forward → TNG S2 Blu-Ray images (COMPLETED) (reply • watch)
This forum discussion has been archived
This forum discussion has been archived and should not be added to. Please visit the Forums to begin a new topic in the relevant location.
Episodes needing updates
Edit
Updating images
Edit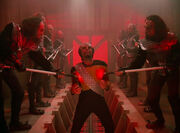 Just getting things prepped here as we approach TNG Season 2 Blu-ray release. My pre-order is in, and I'm counting down the days until December 4 ...and if you haven't heard, we're getting Enterprise on Blu-ray next year, too. - Aatrek 18:04, October 15, 2012 (UTC)
It begins! - Aatrek 03:16, December 4, 2012 (UTC)
More than halfway done within a week of release date. - Aatrek 19:36, December 10, 2012 (UTC)
All done! Bring on Enterprise Season One! - Aatrek 03:57, December 16, 2012 (UTC)
Ad blocker interference detected!
Wikia is a free-to-use site that makes money from advertising. We have a modified experience for viewers using ad blockers

Wikia is not accessible if you've made further modifications. Remove the custom ad blocker rule(s) and the page will load as expected.