Forums → Ten Forward → Memory Alpha flashback
(reply • watch)
This forum discussion has been archived
This forum discussion has been archived and should not be added to. Please visit the Forums to begin a new topic in the relevant location.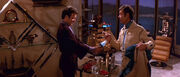 Well, Memory Alpha's 5th birthday kind of snuck by unnoticed.
The About page is rather vague about date, but the earliest edit I could locate suggests the site was originated on November 22nd, 2003.
Can't really think of anything we can do for the site to celebrate it, but I thought it was worth pointing out.... --Alan 17:08, 25 November 2008 (UTC)
Well, Happy Birthday ! Thanks for mention it. ;) – Tom 17:30, 25 November 2008 (UTC)