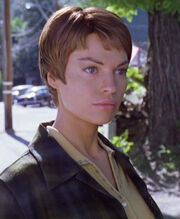 A foremother was a Vulcan expression meaning "grandmother". T'Mir was T'Pol's second foremother ("great-grandmother") and T'Les's foremother ("grandmother"). (ENT: "Carbon Creek")
It can be naturally assumed that grandfathers are referred to as "forefathers. Indeed, in "

Yesteryear

", Spock referred to "a family resemblance to our forefathers", which could be taken to mean grandfathers.
List of Vulcan Forefathers and Foremothers
Edit
T'Mir, foremother of T'Les, second foremother of T'Pol
See also