Ad blocker interference detected!
Wikia is a free-to-use site that makes money from advertising. We have a modified experience for viewers using ad blockers

Wikia is not accessible if you've made further modifications. Remove the custom ad blocker rule(s) and the page will load as expected.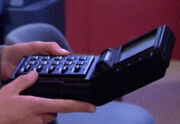 A flux coordinating sensor was a hand-held device consisting of an upper section readout screen with four lights on the right and a lower section with ten buttons and five sliders. It was angled at its mid-point by about 30 degrees.
Wesley Crusher examined such a device in 2364 while in the Starfleet Academy testing area at the Relva VII Federation facility. (TNG: "Coming of Age")