Ad blocker interference detected!
Wikia is a free-to-use site that makes money from advertising. We have a modified experience for viewers using ad blockers

Wikia is not accessible if you've made further modifications. Remove the custom ad blocker rule(s) and the page will load as expected.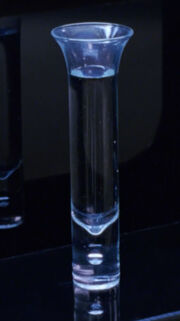 Finoplak was a colorless liquid solvent. One of its properties was its ability to quickly dissolve fabrics.
In 2366, Zibalian trader Kivas Fajo ordered a hundred denkirs of finoplak from a nearby replicator, and proceeded to spill it all over Data's uniform in an attempt to induce him to change into another set of clothes. (TNG: "The Most Toys")