Feinburg's Loan and Pawn was an antique store located on Columbus Avenue in San Francisco, Earth. The store had a policy of "no lay-away, no credit cards, on sale items".
In 1986, James T. Kirk sold a pair of antique eyeglasses to this store. (Star Trek IV: The Voyage Home)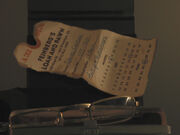 A pawn ticket prop for this purchase was displayed at the
Star Trek: The Experience
. It does not appear to have been seen on screen. The ticket puts the shop at 180
Hoyt Street
and listed its phone number as (415) KL5-1059. The movie makes it pretty clear that the store is at Columbus Avenue (a real street) instead.
Ad blocker interference detected!
Wikia is a free-to-use site that makes money from advertising. We have a modified experience for viewers using ad blockers

Wikia is not accessible if you've made further modifications. Remove the custom ad blocker rule(s) and the page will load as expected.