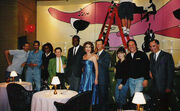 Faye S. Barge, also known as Faith Barge, worked as regular stand-in and background actress on Star Trek: Deep Space Nine. Among her stand-in duties were Felecia M. Bell in the episode "Through the Looking Glass", Tina Lifford in the episodes "Past Tense, Part I" and "Past Tense, Part II", and Penny Johnson Jerald in episodes such as "The Dogs of War".
In 2000 she appeared as the Check-out Girl in the 3rd Rock from the Sun episode "InDickscretion". Between 2002 and 2008 she was the regular stand-in for actress CCH Pounder on the crime series The Shield on which she worked with fellow stand-in Scott Barry. Other work includes the drama series Saving Grace (2007-2010). In addition, Barge is a trained stuntwoman. [1]
External link
Edit
Ad blocker interference detected!
Wikia is a free-to-use site that makes money from advertising. We have a modified experience for viewers using ad blockers

Wikia is not accessible if you've made further modifications. Remove the custom ad blocker rule(s) and the page will load as expected.