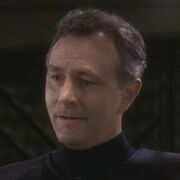 Farrakk was an humanoid arms dealer who worked under Hagath and Gaila.
In 2373, he was given the task of making a deal with the Verillians. However, Farrakk went vacationing on Risa instead, and the Metron Consortium obtained the contract with the Verillians.
Hagath had Farrakk killed for failing him by triggering a warp core breach aboard his ship after he left Deep Space 9. (DS9: "Business as Usual")
Farrakk was played by Tim Halligan.
According to the script, Farrakk was described as an alien of the same race, and roughly the same age, as Hagath.