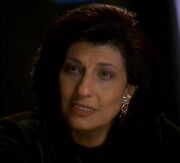 Fadwa El Guindi played Amsha Bashir, Dr. Bashir's mother, in the Star Trek: Deep Space Nine episode "Doctor Bashir, I Presume". It is her only acting or television role.
"I'm an anthropologist, not an actress!"

- Fadwa El Guindi
She is a retired professor of Anthropology at UCLA, with a PhD from the University of Texas, and spokesperson for Arab-Americans. She promotes diversity and has spoken in front of the United Nations, and personally advised President Clinton on policy in the Middle East.
Her interests include the Middle East, visual ethnography, and ethnographic filmmaking. She is currently the Program Manager for Social Sciences at the Qatar National Research Fund in Doha, Qatar.
External links
Edit
Ad blocker interference detected!
Wikia is a free-to-use site that makes money from advertising. We have a modified experience for viewers using ad blockers

Wikia is not accessible if you've made further modifications. Remove the custom ad blocker rule(s) and the page will load as expected.