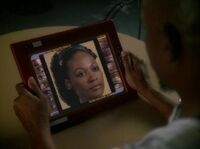 Facsimile construction program 047 was a computer program that could create an image of a person using a variety of images. It used the LCARS system and could be accessed on a PADD. Among the facial features on file were eyes and mouths.
In 2375, Benjamin Sisko used the program to create an image of a woman he had seen in a vision. He was able to create a close enough likeness for Jake Sisko to recognize the image as being similar to a woman in a picture with Joseph Sisko he had found. (DS9: "Image in the Sand")
Ad blocker interference detected!
Wikia is a free-to-use site that makes money from advertising. We have a modified experience for viewers using ad blockers

Wikia is not accessible if you've made further modifications. Remove the custom ad blocker rule(s) and the page will load as expected.