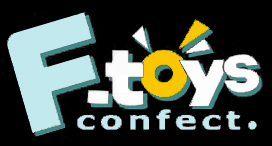 F-Toys is a Japanese "candy toy" company that manufactures small pre-painted plastic miniatures of Star Trek starships as the Star Trek Fleet Collection 1 and Starfleet Collection. They were retailed in Japan by Platz as a licensed blind-box "gashapon" product line in 2008, 2010, and 2016.
The ships were designed for F-Toys by FineMolds, a renowned Japanese modeling company. Starships in the collection measure from seven to thirteen centimeters in length and are packaged with adjustable, individually-labeled stands. A small amount of assembly is required.
The ships are produced in 1/2500 scale, excepting the USS Enterprise-D which is in 1/5000 scale and the Into Darkness USS Enterprise which is in 1/6200 scale.
Star Trek releases Edit
Star Trek Fleet Collection 1 Edit
Released in Japan in November 2008
Special Limited Edition ISS Enterprise Edit
Released at the Wonder Festival 2010 in Tokyo, Japan and by the Platz online store on 25 July 2010.
Starfleet Collection
Edit
A modified re-release of 2008's Star Trek Fleet Collection 1 (where the USS Enterprise (refit) has been replaced by the 2013 version of the alternate reality's USS Enterprise) is slated for release in Japan on 24 October 2016.
External links
Edit