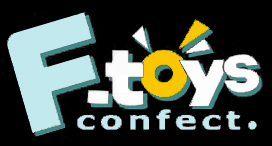 F-Toys is a "candy toy" company headquartered in Osaka, Japan which manufactured pre-painted PVC miniatures of Star Trek starships as the "Star Trek Fleet Collection 1" and the "Starfleet Collection". They were retailed in Japan by Platz as a licensed blind-box "gashapon" product line in 2008, 2010, and 2016.
The ships were designed for F-Toys by FineMolds, a renowned Japanese modeling company, and were packaged with adjustable, individually-labeled stands. A small amount of assembly was required.
The ships were produced in 1:2500 scale, excepting the USS Enterprise-D which was scaled at 1:5000 and the Into Darkness USS Enterprise which was scaled at 1:6200.
Star Trek releases Edit
Star Trek Fleet Collection 1 Edit
Released in November 2008
Limited Edition ISS Enterprise Edit
Limited quantities of the Terran Empire version of the ship seen in Mirror, Mirror were retailed by Platz at the Wonder Festival 2010 convention in Tokyo and through their online store.[1]
Starfleet Collection
Edit
This set was a modified re-release ("reboot") of 2008's Star Trek Fleet Collection 1 where the USS Enterprise (refit) was replaced by the 2013 version of the alternate reality's USS Enterprise. A "secret" ship was not included with this set and the 2016 version of the Enterprise NX-01 did not have painted panel lines or windows.
Released in October 2016
External links
Edit
Ad blocker interference detected!
Wikia is a free-to-use site that makes money from advertising. We have a modified experience for viewers using ad blockers

Wikia is not accessible if you've made further modifications. Remove the custom ad blocker rule(s) and the page will load as expected.