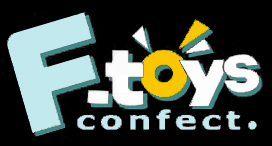 F-Toys is a "candy toy" company headquartered in Osaka, Japan which manufactured pre-painted PVC miniatures of Star Trek starships as the "Star Trek Fleet Collection 1" and the "Starfleet Collection". They were retailed in Japan by Platz as a licensed blind-box "gashapon" product line in 2008, 2010, and 2016.
The ships were designed for F-Toys by FineMolds, a renowned Japanese modeling company. Starships in the collection measured from seven to thirteen centimeters in length and were packaged with adjustable, individually-labeled stands. A small amount of assembly was generally required.
The ships were produced in 1/2500 scale, excepting the USS Enterprise-D which was in 1/5000 scale and the Into Darkness USS Enterprise which was in 1/6200 scale.
Star Trek releases Edit
Star Trek Fleet Collection 1 Edit
Released in November 2008
Limited Edition ISS Enterprise Edit
Limited quantities were retailed by Platz at the Wonder Festival 2010 convention in Tokyo and through their online store.[1]
Starfleet Collection
Edit
A modified re-release ("reboot") of 2008's Star Trek Fleet Collection 1 where the USS Enterprise (refit) was replaced by the 2013 version of the alternate reality's USS Enterprise. A "secret" repainted ship was not included with this set.
Released in October 2016
External links
Edit