Estes Industries is an American company which specializes in the design and manufacture of operational model rockets for the general public.
Founded by Vernon Estes in Penrose, Colorado in 1958, the company managed to survive the severe decline of interest in the hobby during the 1990s by acquiring its competitors and subsequently being taken over by affluent holding companies. The company is still in existence today and was sold to Hobbico, Inc. in 2010.
Star Trek association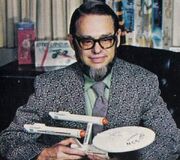 In 1975, Estes became the second company (after AMT) to be licensed to market Star Trek model kits in the US, although their products were strictly model rockets.
Estes released models of the USS Enterprise and the Klingon D7-class Battle cruiser which were originally packaged in a polypropylene bag with a cardboard liner. In 1991, both models were re-packaged in cardboard boxes for Star Trek's 25th Anniversary. Subsequent releases were also sold in cardboard boxes.

Item
Item No.
Issue
Scale
Notes
Klingon D7 Battle Cruiser
1274
1975
1:700
–
1991
25th Anniversary re-packaging
USS Enterprise
1275
1975
1:700
–
1991
25th Anniversary re-packaging

Estes Industries 1975/1992 Publications

1975 Catalog cover


ASIN B002CEQDOO

1975 Interior spread catalog

1975 Publication

1992 Interior spread catalog
See also
External links