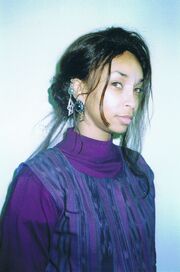 Erika Guillory is an actress who played a Bajoran woman in the Star Trek: Deep Space Nine episode "Wrongs Darker Than Death or Night". As an extra, she received no credit for her appearance.
Guillory appeared 1990 as a dancer in the music documentary series Soul Train and made her film debut in the 1996 comedy Phat Beach, with Tommy "Tiny" Lister, Jr. She also played supporting roles in the television series Malcolm & Eddie (1996) and Sliders (1997, with regular John Rhys-Davies) and portrayed a waitress in Ice Cube's comedy drama The Players Club (1998, with Judyann Elder, Tommy "Tiny" Lister, Jr., Annie O'Donnell, and Ray Uhler).
External link
Edit
Ad blocker interference detected!
Wikia is a free-to-use site that makes money from advertising. We have a modified experience for viewers using ad blockers

Wikia is not accessible if you've made further modifications. Remove the custom ad blocker rule(s) and the page will load as expected.