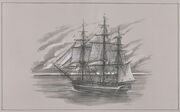 The Enterprise was an 18th century Human naval frigate.
From 2151 until 2161, Jonathan Archer, the captain of the United Earth Starfleet starship Enterprise NX-01, had a drawing of Enterprise hanging in his ready room. (Star Trek: Enterprise)
While viewing the captain's display of ships named Enterprise in 2154, Shran asked Archer if he had personally served aboard the various vessels on display. Archer noted that many of these vessels were active before his time, and that this ship sailed "almost four hundred years" before. (ENT: "United")
Crewman Daniels had another reproduction of the drawing in his quarters. (ENT: "Shockwave, Part II")
In the mid-2270s, a collection of paintings depicting the various vessels named Enterprise was featured on the recreation deck of the USS Enterprise, which included a picture of this ship. (Star Trek: The Motion Picture)
External link
Edit
Ad blocker interference detected!
Wikia is a free-to-use site that makes money from advertising. We have a modified experience for viewers using ad blockers

Wikia is not accessible if you've made further modifications. Remove the custom ad blocker rule(s) and the page will load as expected.