Ad blocker interference detected!
Wikia is a free-to-use site that makes money from advertising. We have a modified experience for viewers using ad blockers

Wikia is not accessible if you've made further modifications. Remove the custom ad blocker rule(s) and the page will load as expected.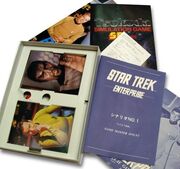 Enterprise: Role Play Game In Star Trek is a role playing game (item no. HG-014-R-3000, the last four digits indicating the price in Japanese yen) by the Japanese company Tsukuda Hobby, designed by Tama Yutaka, and released in 1983 in a boxed set format.
Like most Japanese publications and boxed games, the quality of the components of Enterprise was exceptional. It came packed in a brilliantly colored hard cardboard box (8.5" x 11.5" x 1.5") featuring Kirk, Spock and McCoy on the front; and a black and white rear cover with a description of the game, pictures of some of the character cards and their stats, and a list of the game components, as follows:
A 20-page Rulebook, almost entirely text with few illustrations and no other Star Trek photos
A 13-page Adventure book, including 4 pages of maps with a "blueprint" look to them
15 double-sided Character Cards, coated for use with erasable markers or crayon; the front featured a photo of the player character, and the back listed their statistics and provided space for tracking hits, making notes and so on; cards were provided for Kirk, Spock, McCoy, Uhura, Scotty, Sulu, Chekov, Chapel, Rand, Commander Kang the Klingon, Stonn the Vulcan, Sub-Commander Tal the Romulan and three blank cards, presumably for NPCs
Two twenty-sided D10 dice (red and white, numbered 0-9)
Mail-in return survey card
4-page 1983 Tsukuda Simulation Game catalog detailing the SF Series, HG-001 through HG-016
External link
Edit