Ad blocker interference detected!
Wikia is a free-to-use site that makes money from advertising. We have a modified experience for viewers using ad blockers

Wikia is not accessible if you've made further modifications. Remove the custom ad blocker rule(s) and the page will load as expected.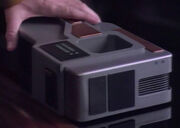 An enhancement module was a piece of portable computer technology that could be used to provide large amounts of active memory for a tech cube. Together, these two pieces make an optronic data core.
In 2369, with the help of Reginald Barclay, the holographic James Moriarty and Countess Regina Bartholomew were stored in a tech cube equipped with an enhancement module to keep their holodeck program running continuously. The module had enough active memory to provide the characters a lifetime of experiences. (TNG: "Ship in a Bottle")