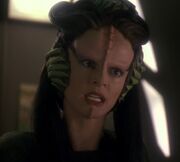 Emi's species were a humanoid alien species in the 24th century with cranial ridges. At least two members of this species visited the space station Deep Space 9. (DS9: "Prophet Motive", "In the Cards")
Regarding Emi's physical appearance, the script notes emphasized that her character be made up with "minor prosthetics".
Individuals
Edit
Ad blocker interference detected!
Wikia is a free-to-use site that makes money from advertising. We have a modified experience for viewers using ad blockers

Wikia is not accessible if you've made further modifications. Remove the custom ad blocker rule(s) and the page will load as expected.