Ad blocker interference detected!
Wikia is a free-to-use site that makes money from advertising. We have a modified experience for viewers using ad blockers

Wikia is not accessible if you've made further modifications. Remove the custom ad blocker rule(s) and the page will load as expected.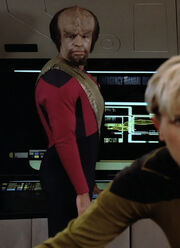 Emergency Manual Override was one of the console stations on the bridge of Starfleet starships, used to take control of the ship's computer during emergency situations.
On Galaxy-class starships such as the USS Enterprise-D, it stood right of center in the rear bridge console suite, between the Propulsion Systems and Environment stations. (TNG: "Encounter at Farpoint", "The Last Outpost")
Captain Picard used the Emergency Manual Override station to access the ship's computer after the Bynars hijacked the Enterprise-D. (TNG: "11001001")
By 2365, it was replaced by the relocated Environment station. (TNG: "The Child")