Ad blocker interference detected!
Wikia is a free-to-use site that makes money from advertising. We have a modified experience for viewers using ad blockers

Wikia is not accessible if you've made further modifications. Remove the custom ad blocker rule(s) and the page will load as expected.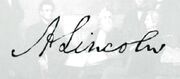 The Emancipation Proclamation was a 19th century Earth legal document that was issued by the United States of America President Abraham Lincoln during the American Civil War that ensured the freedom of all slaves in the Confederate States of America.
The painting entitled First Reading of the Emancipation Proclamation of President Lincoln, depicting an image of Abraham Lincoln surrounded by his Cabinet members, Salmon P. Chase, Gideon Welles, Caleb B. Smith, William H. Seward, Montgomery Blair during the first reading of the Emancipation Proclamation in 1862, was contained in the library computer aboard the USS Enterprise. A second image overlaid the painting representing Lincoln's signature of the document. These images were flashed on a viewscreen when the Talosians scanned the Enterprise computer in 2254. (TOS-R: "The Cage")
External link
Edit