Ad blocker interference detected!
Wikia is a free-to-use site that makes money from advertising. We have a modified experience for viewers using ad blockers

Wikia is not accessible if you've made further modifications. Remove the custom ad blocker rule(s) and the page will load as expected.
Elysia is a region of space said to be inhabited by representatives of 123 races, who began inhabiting the region since becoming trapped there in as early as the 13th century.
The following are a list of unnamed inhabitants of Elysia, all of which were members of the Elysian Ruling Council and, according to Xerius, are said to be centuries old, despite looking young. They lived aboard their various starships, which remained clustered together. (TAS: "The Time Trap")
Amphibian councilor
Edit

This female alien was once a crewmember of a starship that entered the Delta Triangle and became trapped in Elysia. By 2269 she served as member of the Elysian Ruling Council. She later attended a party aboard the USS Enterprise, which entertained guests of the Ruling Council, the Enterprise crew, and the crew of the IKS Klothos. After violence broke out between McCoy and Kaz, during a reception aboard the Enterprise, she returned to the Elysian Council Chamber to attend Xerius' sentencing of Kor for breaking Elysian law. (TAS: "The Time Trap")
Andorian councilor
Edit
This Andorian was once a crewmember of a starship that entered the Delta Triangle and became trapped in Elysia. By 2269 he served as member of the Elysian Ruling Council. He later attended a party aboard the USS Enterprise, which entertained guests of the Ruling Council, the Enterprise crew, and the crew of the IKS Klothos. After violence broke out between McCoy and Kaz, during a reception aboard the Enterprise, he returned to the Elysian Council Chamber to attend Xerius' sentencing of Kor for breaking Elysian law. (TAS: "The Time Trap")

Gorn councilor
Edit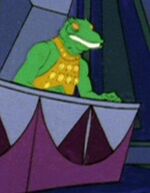 This Gorn was once a crewmember of a starship that entered the Delta Triangle and became trapped in Elysia. By 2269 he served as member of the Elysian Ruling Council. He later attended a party aboard the USS Enterprise, which entertained guests of the Ruling Council, the Enterprise crew, and the crew of the IKS Klothos. After violence broke out between McCoy and Kaz, during a reception aboard the Enterprise, he returned to the Elysian Council Chamber to attend Xerius sentencing of Kor for breaking Elysian law. (TAS: "The Time Trap")
Human councilor
Edit
The Human female was once a crewmember of a starship that entered the Delta Triangle and became trapped in Elysia. By 2269, she served as member of the Elysian Ruling Council. She later attended a party aboard the USS Enterprise, which entertained guests of the Ruling Council, the Enterprise crew, and the crew of the IKS Klothos. After violence broke out between McCoy and Kaz, during a reception aboard the Enterprise, she returned to the Elysian Council Chamber to attend Xerius' sentencing of Kor for breaking Elysian law. (TAS: "The Time Trap")
Insectoid councilor
Edit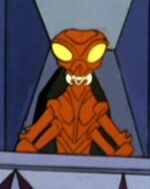 This insectoid was once a crewmember of a starship that entered the Delta Triangle and became trapped in Elysia. By 2269 he served as member of the Elysian Ruling Council. It later attended a party aboard the USS Enterprise, which entertained guests of the Ruling Council, the Enterprise crew, and the crew of the IKS Klothos. After violence broke out between McCoy and Kaz, during a reception aboard the Enterprise, this individual returned to the Elysian Council Chamber to attend Xerius' sentencing of Kor for breaking Elysian law. (TAS: "The Time Trap")
Klingon councilor
Edit
This Klingon was once a crewmember of a starship that entered the Delta Triangle and became trapped in Elysia. Once a soldier in the Klingon Defense Force, by 2269, he served as member of the Elysian Ruling Council. He later attended a party aboard the USS Enterprise, which entertained guests of the Ruling Council, the Enterprise crew, and the crew of the IKS Klothos. After violence broke out between McCoy and Kaz, during a reception aboard the Enterprise, he returned to the Elysian Council Chamber to attend Xerius' sentencing of Kor for breaking Elysian law. (TAS: "The Time Trap")
Kzin councilor
Edit
This Kzin was once a crewmember of a starship that entered the Delta Triangle and became trapped in Elysia. By 2269 it served as member of the Elysian Ruling Council. It later attended a party aboard the USS Enterprise, which entertained guests of the Ruling Council, the Enterprise crew, and the crew of the IKS Klothos. After violence broke out between McCoy and Kaz, during a reception aboard the Enterprise, it returned to the Elysian Council Chamber to attend Xerius' sentencing of Kor for breaking Elysian law. (TAS: "The Time Trap")
Phylosian councilor
Edit

This Phylosian was once a crewmember of a starship that entered the Delta Triangle and became trapped in Elysia. By 2269 it served as member of the Elysian Ruling Council. It later attended a party aboard the USS Enterprise, which entertained guests of the Ruling Council, the Enterprise crew, and the crew of the IKS Klothos. After violence broke out between McCoy and Kaz, during a reception aboard the Enterprise, it returned to the Elysian Council Chamber to attend Xerius' sentencing of Kor for breaking Elysian law. (TAS: "The Time Trap")

Tellarite councilor
Edit
This Tellarite was once a crewmember of a starship that entered the Delta Triangle and became trapped in Elysia. By 2269 he served as member of the Elysian Ruling Council. He later attended a party aboard the USS Enterprise, which entertained guests of the Ruling Council, the Enterprise crew, and the crew of the IKS Klothos. After violence broke out between McCoy and Kaz, during a reception aboard the Enterprise, he returned to the Elysian Council Chamber to attend Xerius' sentencing of Kor for breaking Elysian law. (TAS: "The Time Trap")

Vulcan councilor
Edit
This Vulcan was once a crewmember of a starship that entered the Delta Triangle and became trapped in Elysia. By 2269 he served as member of the Elysian Ruling Council. He later attended a party aboard the USS Enterprise, which entertained guests of the Ruling Council, the Enterprise crew, and the crew of the IKS Klothos. After violence broke out between McCoy and Kaz, during a reception aboard the Enterprise, he returned to the Elysian Council Chamber to attend Xerius' sentencing of Kor for breaking Elysian law. (TAS: "The Time Trap")