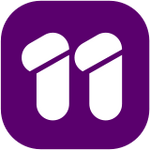 Eleven is an Australian free-to-air digital television channel, part of Network Ten, jointly owned by Ten Network Holdings and CBS Studios International. Eleven was launched on 11 January 2011, and is available on standard definition channel 11, or standard definition channel 55 via Southern Cross Ten and TDT in some parts of Australia.
Eleven is distinctly aimed at youth, aged approximately 13-25. It regularly features youth oriented entertainment programs, including Star Trek, The Simpsons, Neighbours, Stargate, Everybody Loves Raymond, and Raising Hope, among many others.
The Next GenerationEdit
Eleven began broadcasting Star Trek: The Next Generation in 2011, accompanied by a humorous advertising campaign, aimed at attracting viewers who were new to the Star Trek franchise to the syndicated reruns. Since then, Eleven has shown a series of different advertisements, all with the same aim. As of mid-2012, three episodes of The Next Generation were shown beginning 8:30 on Thursday nights.
After the apparent success of the broadcasts of Star Trek: The Next Generation, Eleven began broadcasting Star Trek: Voyager later in 2011, also accompanied by a humorous, although less shown, advertising campaign. As of mid-2012, three episodes of Voyager were shown beginning 8:30 on Saturday nights. However, Voyager was suspended from late June 2012, with reruns of the reality show Masterchef Australia, from Eleven's parent station Ten, showing in its place.
External links
Edit
Ad blocker interference detected!
Wikia is a free-to-use site that makes money from advertising. We have a modified experience for viewers using ad blockers

Wikia is not accessible if you've made further modifications. Remove the custom ad blocker rule(s) and the page will load as expected.