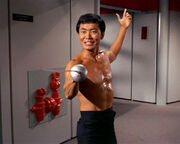 Electrographic Analysis was a facility located aboard Constitution-class starships of the mid-23rd century. This facility was responsible for analyzing pictures produced by electronic transmission. (TOS: "The Man Trap", "The Naked Time")
This facility was never mentioned in dialog; its name comes from a sign.
Ad blocker interference detected!
Wikia is a free-to-use site that makes money from advertising. We have a modified experience for viewers using ad blockers

Wikia is not accessible if you've made further modifications. Remove the custom ad blocker rule(s) and the page will load as expected.