List of individuals incarcerated or employed at the asylum on Elba II. As of 2269, the inmate population was fifteen.
Andorian inmate
Edit
This Andorian inmate was a ward patient at the Elba II asylum in 2269. (TOS: "Whom Gods Destroy")
Garth's guard
Edit
This guard released Garth from his holding cell, believing him to be Dr. Cory, as Garth had changed his appearance to resemble the governor. It was the first time that Cory became aware of Garth's powers. (TOS: "Whom Gods Destroy")
This character was only mentioned in dialogue.
Human inmates
Edit
These six Human inmates participated in several of Garth's antics, including his meal with James T. Kirk and his coronation ceremony. (TOS: "Whom Gods Destroy")
Tellarite inmate
Edit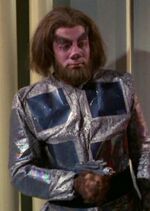 This Tellarite inmate was imprisoned at the Elba II asylum in 2269. (TOS: "Whom Gods Destroy")