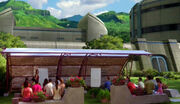 Edwin Garcia II (born 1 October 1976; age 40) is an actor who appeared as a linguistic student in the Star Trek: Enterprise pilot episode "Broken Bow". He received no credit for this appearance and was identified by the call sheet for this day. Garcia filmed his scene on location in Malibu on 19 June 2001.
Born in Aurora, Colorado, Garcia attended the Governor's School for the Fine Arts and earned a BA in Theatre Performance from the College in Charleston. He studied acting at the Actor's Edge Studio and performed in stage plays such as "Ghosts" and "A Midsummer Night's Dream".
He starred in the independent films Mirror Image and Angeles and was featured in the action drama The Circuit 2: The Final Punch (2002), the family comedy Holes (2003, with Alex Daniels, Rick Worthy, Michael Cavanaugh, Eric Pierpoint, Gary Bullock, Jeff Ricketts, Jim Wilkey, Brian J. Williams, and Steven Lambert), episodes of CSI: Crime Scene Investigation (2001, with Brigid Brannagh), Wanted (2005, with Diana R. Lupo and Jack Kehler), and The Unit (2006, with Abby Brammell, Cullen Chambers, Kavita Patil, Matt Malloy, and Scott Rinker), the short film Entangled (2006), the action film Border Town (2009), and the drama Nine Shades of Pleasant (2009, with Randall Bosley) on which he also worked as stunt coordinator.
External links
Edit
Ad blocker interference detected!
Wikia is a free-to-use site that makes money from advertising. We have a modified experience for viewers using ad blockers

Wikia is not accessible if you've made further modifications. Remove the custom ad blocker rule(s) and the page will load as expected.