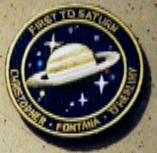 The Earth-Saturn probe was the first manned mission from Earth to Saturn that took place in the early 21st century.
The expedition was led by Colonel Shaun Geoffrey Christopher; other crew members included Fontana and O'Herlihy.
In 1969, the USS Enterprise, which had accidentally traveled back in time from the year 2267, took aboard Shaun Geoffrey Christopher's father, Captain John Christopher, when he attempted to intercept the Enterprise with his F-104 Starfighter. Initially believing that returning Christopher to Earth would be impossible, due to the fact that he might inadvertently change history with his new-found knowledge of the future, Lieutenant Commander Spock eventually realized that he had to be returned, or Shaun Geoffrey Christopher would never be born and the Saturn mission would never take place.
The mission patch was among others displayed in the 602 Club. (TOS: "Tomorrow is Yesterday"; ENT: "First Flight")
Appendices
Edit
Background information
Edit
External link
Edit