Ad blocker interference detected!
Wikia is a free-to-use site that makes money from advertising. We have a modified experience for viewers using ad blockers

Wikia is not accessible if you've made further modifications. Remove the custom ad blocker rule(s) and the page will load as expected.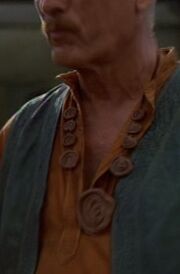 Ears were a fetish object in use in Takar around 2373. One or more of them were worn on a person's clothing. A single one or several could be worn on a chord around the neck, or they might be worn in one's hair.
One was not allowed to enter the temple of the "Holy Sages" Arridor and Kol without wearing at least one ear. Doing so could result in a fine or even arrest. (VOY: "False Profits")