Region A cover
Blu-ray Disc release
Series:
Star Trek: Enterprise
Season:
1
No. of episodes:
25
No. of discs:
6
Region A release date:
26 March 2013
Region B release date:
1 April 2013
Rating(s):
Reference:

ASIN B0019N95IK

(region A)


ASIN B00B4F8KKC

(region B UK)


ASIN B00B1ZSWD0

(Germany)
Year:
2151-2152

File:ENT Season 1 Blu-ray (Germany).jpg.jpg

Region B cover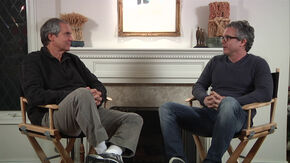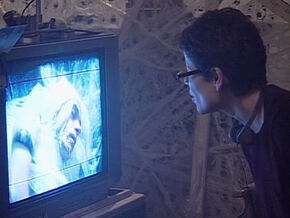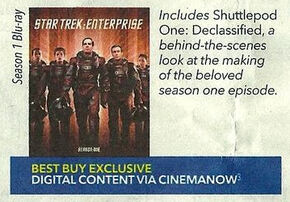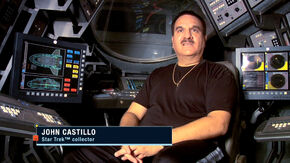 Star Trek: Enterprise - Season One is a Blu-ray Disc release, featuring the complete first season of Star Trek: Enterprise in 1080p high-definition, to be released in North America on 26 March 2013. [1] As all four seasons of Enterprise were filmed in high definition, the series will not need to undergo the extensive remastering process required for The Original Series or The Next Generation.
The set's production was first revealed by Enterprise writer/producer Mike Sussman on Twitter. [2] [3] Robert Meyer Burnett and Roger Lay, Jr., who produced the documentaries and other bonus material on the TNG Blu-ray sets, is taking a similar role in production of the Enterprise sets. [4]
Online content
In addition to the list of special features included on the Blu-ray set, an additional fifteen-minute feature entitled "Shuttlepod One: Declassified" was available to consumers who purchased the Season One set at Best Buy stores. This feature included interviews with Brannon Braga, David Livingston, Connor Trinneer, Dominic Keating, and memorabilia collector John Castillo.
In North America, this feature was only available as a digital download through Best Buy's "CinemaNow" streaming media service, and focused on the making of the first season episode.[5]
Disc contents
Disc

Episode

1

Special Features
Archival Features

Audio Commentary on "Broken Bow" with Rick Berman and Brannon Braga
Text Commentary on "Broken Bow" by Mike and Denise Okuda
Deleted scenes from "Broken Bow"
Deleted scenes from "Fight or Flight"
Creating Enterprise
O Captain! My Captain!
NX-01 File 02

2

Archival Features

Text Commentary on "The Andorian Incident" by Mike and Denise Okuda
Deleted scene from "Unexpected"
Cast Impressions: Season One
Enterprise Secrets

3

Special Features
Archival Features

Deleted scene from "Sleeping Dogs"
Star Trek Time Travel
Admiral Forrest Takes Center Stage

4

Special Features
Archival Features

Deleted scene from "Shuttlepod One"
Inside Shuttlepod One
NX-01 File 01
NX-01 File 03

5

Special Features
Archival Features

Text Commentary on "Vox Sola" by Mike and Denise Okuda
Deleted scenes from "Oasis"
Deleted scenes from "Fallen Hero"
Enterprise Outtakes

6

Special Features

To Boldly Go: Launching Enterprise

Part 1: Countdown
Part 2: Boarding the NX-01
Part 3: First Flight

Archival Features

Deleted scene from "Two Days and Two Nights"
Deleted scenes from "Shockwave"
Celebrating Star Trek